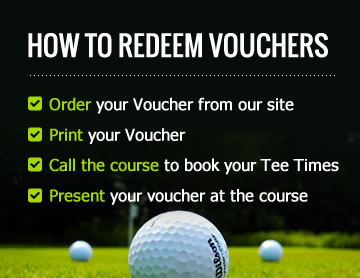 The Links Kennedy Bay - (08 9524 5991) Sun-Fri with carts / excl Sat & publ hols
Voucher Details
Designed by Ian Baker Finch, Roger McKay and Michael Coate this course will satisfy any golfer who craves the sensation of pure links golf. All bunkers are true links style with revetted faces. The fourth hole presents a huge bunker reminiscent of the famous Hell bunker on the 14th hole at St Andrews. The greens too are all one would expect on a true links- firm, fast, true and designed to be approached with running shots. For a totally different golfing experience without having to travel to Scotland, come and play a genuine links golf course in WA.
Golf Course Info
The Links Kennedy Bay requests neat golf attire at all times. The following is the dress standard that is required while on the course. •Collared or recognised golf shirt •Tailored shorts or trousers only •Denim or track pants will not be permitted on the course •Golf shoes with soft spikes are preferred •Enclosed footwear required at all times
Course Address
Port Kennedy Drive, Port Kennedy WA 6172
Course Length
Phone Number
08 9524 5991
Website
www.http://kennedybay.com.au/.
Terms & Conditions
Tee Times are subject to availability. Call the Golf Course prior to purchasing golf vouchers. Voucher valid for play Sunday - Friday only Includes motorised cart. Voucher is vailid for 6 months from date of purchase.