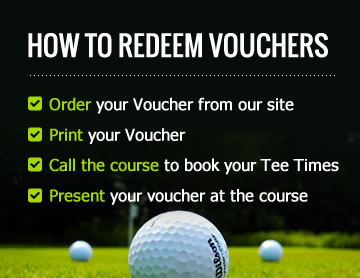 Secret Harbour Golf Links - (08 9524 7133) - 7 days walking / incl publ hols
Voucher Details
Designed by the renowned golf architect and player, Graham Marsh, Secret Harbour Golf Links reflects the style of the traditional Scottish courses such as Muirfeild, Turnberry and St. Andrews. To all golfers who are used to tree lined parkland courses this will present a totally new and exciting challenge, and one to be savoured. The beautifully manicured rolling fairways are pitted with well positioned pot bunkers and bordered by lush fescue grass. This puts a premium on course management, accuracy and a thoughtful approach to each hole. Couple these elements with the refreshing breezes from the adjacent Indian Ocean, and you have a recipe for a unique experience.
Golf Course Info
Golf attire should be neat and tidy. Tracksuits, jeans and denim, boardshorts and singlets are not permitted on the course. All shirts should have a collar. Proper footwear must be worn at all times. That is, approved soft-spiked golf shoes or flat-soled shandshoes with socks.
Course Address
Secret Harbour Boulevard, Secret Harbour WA 6173
Course Length
Phone Number
08 9524 7133
Website
www.http://secretharbourgolflinks.com.au
Terms & Conditions
Tee Times are subject to availability. Call the Golf Course prior to purchasing golf vouchers. Voucher valid for play 7 days a week, walking. Voucher valid for 6 months from date of purchase.