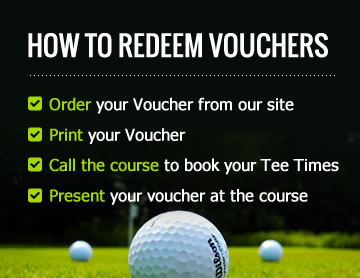 Pacific Harbour Golf & Country Club - Mon-Fri with carts / excl pub hols
Voucher Details
Pacific Harbour is one of Queensland's premier golf courses located on the beautiful Bribie Island, Queensland. Playing at Pacific Harbour Golf Club should be on everyone's bucket list as the course is a unique, award-winning, 'island links' style 18-hole champion course that will challenge both the champion and mesmerise the social player.

Valid for play Mon - Fri (excl public holidays) with shared motorised cart



Golf Course Info
All the key characteristics of a world-class course have been incorporated: a great layout that tracks the terrain naturally, challenging design and memorable holes, framed by beautiful landscaping which emulates the unique coastal forest environment on Bribie Island. This unique golfing paradise is located on Bribie Island, just under 1 hour north east of Brisbane, Queensland, on the northern boundary of Moreton Bay, and is uniquely positioned between a national park and a marine national park.
Course Address
141 - 159 Avon Avenue, Bribie Island QLD 4507
Phone Number
07 3410 4001
Website
www.pacificharbourgolf.com.au
Terms & Conditions
Voucher valid for play Monday - Friday (excluding public holidays) and including carts.
Tee Times are subject to availability.
Call the Golf Course prior to purchasing golf vouchers.
All vouchers are VALID FOR 6 MONTHS from date of purchase.